Quality Control & Shipment Inspection
During the season when the rush and pressure is on, garment factories tend to focus more on meeting deadlines and there is every chance of items not meeting all Quality Control norms landing up at your warehouses. While your QC team rejects the shipment, the fact is there is every chance of your brand ceding space to rivals because of lack of products in store.
Here is where Totalika comes in.
As an independent Quality Control team, we conduct a thorough Quality Check before the order is shipped out. By pointing out flaws, we ensure your vendors take corrective action well in time to prevent last minute rejection. Ensuring you receive shipments that are perfect in every way, each time.
Quality Inspection
It is necessary to maintain the quality right from the beginning even before the production starts in order to procure a satisfactory final product with the right quality. Our services cover all the processes right from the housing, manufacturing, finishing and packing until the shipment is released to ensure the production of quality products.
Types of Inspections
Pre-Production Inspection: This is done before production starts. It is done to crosscheck for final verification of bulk fabric and trims materials, styling cutting way, manufacturing details and workmanship of the garment or pre-production sample as per the buyer's requirement.
First Inline Production Inspection: This inspection is done at the start of production when first the production output of a particular style of garments is inspected, to distinguish possible discrepancies or variation and to do the necessary corrections to be made for bulk production. This inspection covers mainly style detail, general appearance, workmanship, measurements, fabric quality, trims and components, lot color, printing, embellishments and washing quality.
Second Line Production Inspection: This inspection is done during production to ensure initial discrepancies have been corrected and rectified.
Final Shipment Inspection: This inspection is carried out when the production of the total quantity of an order or partial delivery is completed. A sample lot is selected from the order and a percentage of the garments is inspected as specified by the buyer with the desired AQL sampling inspection system.
Quality Control Process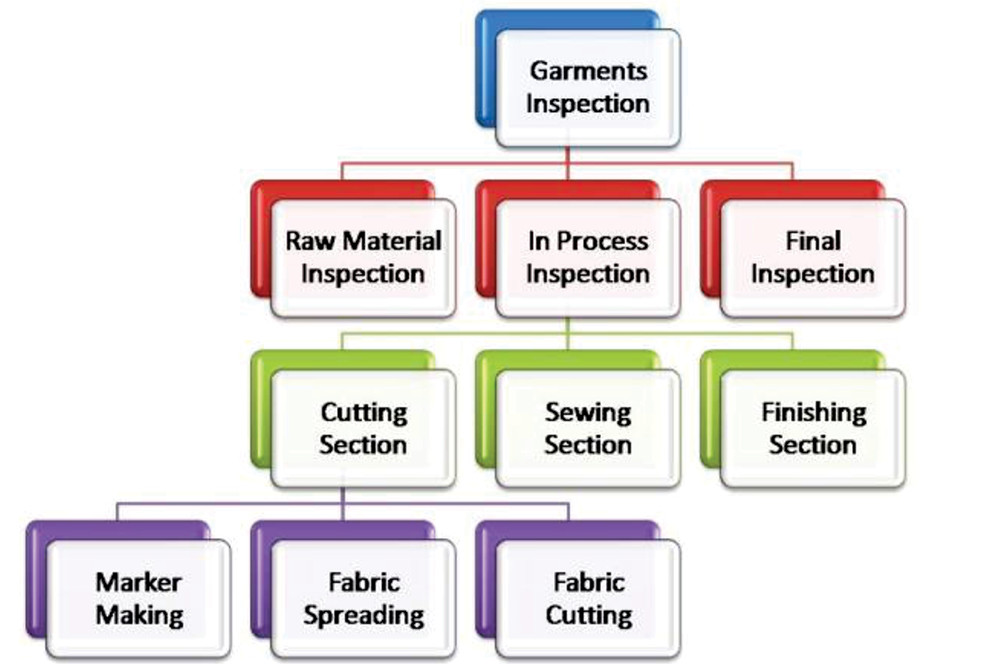 OTHER SERVICES